Lake & McHenry County Chapters History
Ecclesiastes 4:10
If either of them falls down, one can help the other up. But pity anyone who falls and has no one to help them up.
John Skillman (retired Gurnee Fire) (left) and Brian Bandel
Brian Bandel, chapter founder, recounts why he founded our chapter. "As a newer Christian I felt isolated in the fire service.

I did a search and found the FFC website and contacted Pat Stilson who introduced me to John White. I was invited to Hume Lake and was encouraged by so many including Joe Lindaman, Paddy Quinn and Phil Scott. I also participated in a ERT to Haiti in 2010 following the devastating earthquake there."

"These experiences lead me to realize we needed a local chapter to support and encourage firefighters in their faith walks. With help from Scott Ward, Jim Pelliteri, Chief George Bridges and Pastor Ronn Read we were off and running. Seeking to expand our reach in the area I recruited and the Lord blessed me with John Skillman who became the Chapter President and remains so to this day."
From this time we have met monthly for fellowship breakfast followed by service in Lake County IL.

In 2019 more members joined who lived farther west so Brian set up meetings in McHenry IL and then started a new chapter there where he again serves as chapter President . The chapters meet separately for fellowship but meet together for family and social events. Contact details for John and Brian are below.
John Skillman, Jason Funk, Cvetan, Brian Bandel


Ronn Read, Jason Ames & Brian Bandel


Rob Elkins, Al Diercks, a happy neighbor, John Skillman & Bill Wright after a furniture delivery with Love in the Name of Christ
On ERT Missions in the US, Rob Elkins with other FFC Intl members


John Skillman, Gary Miller, Bob Szczerba, Greg Friedrich, Jim Arie & Al Diercks
John Skillman, Greg Friedrich, a grateful neighbor & Brian Bandel after a furniture delivery
Manning the booth at FDIC in Indy with Jerry & Jennifer White, John Mactlachowski, Paddy & Wendy Quinn and John Skillman
On Mission Training Scouting Trips Internationally George Rabiela translates for John White at Acapulco Fire Department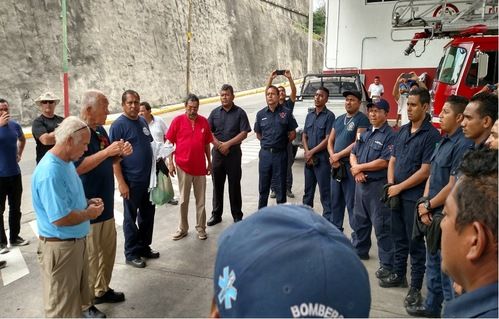 Tom Christensen, John Skillman & Gary Miller


Keith Hazelwood, Brian Bandel & Greg Friedrich with neighbors
Manning the booth at FDIC in Ind



Joe Lindaman, John Skillman, Rob Elkins & John White in Acapulco


Family tour of the Chicago Fire
Christmas outing with our wives at Beelows in Lake Zurich
Fellowship
Hebrews 10:24-25
And let us consider how we may spur one another on toward love and good deeds, not giving up meeting together, as some are in the habit of doing, but encouraging one another—and all the more as you see the Day approaching.


Lake County
Meets on a rotating basis at 6:00am at Panera Bread at 6557 Grand Ave , Suite 150, Gurnee, IL.
Email for schedule - IBRESQONE@aol.com




McHenry County
Please contact the leaders for meeting dates, location and times
Brian Bandel
(847) 902-2665
Jason Funk
(309) 256-7662